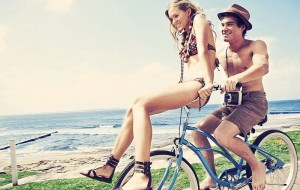 Do you think that there is nothing more romantic in the world than a dinner with candles on the night beach listening to Moonlight Sonata of Ludwig van Beethoven? And now you'll be pleasantly surprised – psychologists say that the joint fun, kids games, and other tomfoolery seal your intimacy no worse than any well-established romantic traditions. You've probably heard a million times that you need always to remain a child at heart. But how to do it and what advantages will you get from this in the relationship with your lovely Ukrainian lady? 
Woody Allen, American actor, writer, director, once said this phrase : "Basically my wife is very immature. I'd be at home taking a bath and she'd come in and sink my boats."
But famous Woody lives really fun! Maybe you with your lady should try to open children in yourselves, using these small tips for romantic tomfoolery. We promise, they will please you both.
Like to take pictures? Make funny faces and print out pics and then make a photo collage on the whole wall!

Find funny love song and sing it to each other. You can do this even in karaoke-bar, where there are a lot of people, and do not care that you absolutely have no ear for music! Just enjoy.

 

Write a lot of love notes on slips of paper and hide them around the house. Your lady will be pleased to find them.

 

Take a bath together – not only with foam, but also with a rubber duck, if you are a great humorist, grab also with yourself flippers and mask for diving.

 

Always come up with cute nicknames for each other. Just do not be banal.

 

Play gambling games for desires. Necessarily fulfill all the desires of your soul mate!
 And much more. Be creative, have fun.
Do you understand now that in relations with the woman, it is important sometimes to be a kid? To be able to rejoice together as children, to dream, to enjoy this world, to admire, to wonder, to notice all the beautiful things!
Create your own little world where there will be only you and your lady, fill it with positive and humor. Paint it with bright colors and then you will become the happiest persons on the planet together with your beloved. May be for someone your jokes will be incomprehensible, but what could be more perfectly than the instantaneous understanding – just looking at each other and without saying a word will laugh together to tears? Be on the same wavelength, you should only catch it and then your world and relationship will turn for the better. Joke, smile, laugh, love – live to the fullest!
Of course, do not forget that sometimes life presents us such situations in which we are obliged to behave in an adult way – to be responsible, strong and wise. Learn how to combine all these qualities with a sense of humor and tomfoolery. Then your life and personal relationships will turn into a fairy tale.