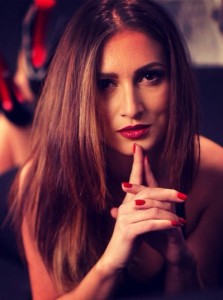 Marina
Ukraine, Dnepropetrovsk
Age: 23 years old
Star sign: Leo
Photo Album: 9 photo
1. If you could travel the world, which are the five places you'd never miss?
Oh!) I adore travelling! I think it's the first thing we should work for)) One proverb says "Do not spend money on clothes,spent them on travelling)) It's not important how old your boots are if your walk along Streets of Paris in them)) If i had an opportunity to visit 5 places i will go to Machu Picchu in Peru, Salar de Uyuni In Bolivia,White Cathedral in Abu Dhabi, Grand Canyon in Colorado and Sultan Suleyman Castle in Turkey) Maybe one day we shall visit the places together?))
2. Do you have a childhood memory that makes you smile every time you think of it?
I was the happiest child in the world))I was born in a happy family and i have so many wonderful memories)) The funniest is when my aunts and me made concerts for all the neighbors))) I stood on the chair and was singing Show must go on!))
3. Who do you speak to when you're having a hard time in love?
I have a lot of female friends, but i do not like to devote them to my inner world) I can't say i have ever had hard times in love, but when i fallen in love for example for the first time i told my mom about it)
4. If you were given the day off from all your everyday responsibilities, how would you spend it?
Of course i will not stay at home!)) It will depend on the weather)) Go to the beach and swim or to the swimming pool if it's cold outside!)) Bowling, skating, skiing, cycling))I will choose something like that)) Will you join me?)
5. Do you have any phobias?
In spite of the fact that i lead an active way of living i am afraid of high speed.
6. What is your favorite TV show?
I do not often watch TV)) But if it happens so i will watch Discovery )
7. What is the craziest thing you have ever done?
Swimming with sharks)) Mm))Would you like to try?))
8. Something you wish you were better at?…
There are a lot if things i wish i could be better at)) There is no limits for perfection) i wish to learn how to cook exotic dishes and learn how to dance ballroom dances perfectly well)
9. Do you believe that there is only one love for everyone?
Yes! You call like a lot in your life,but love is only one!)) My parents are example of this) They are together for 25 years and always say that can't imagine somebody else beside them.
10. Do you like experimenting with new things in life?
I like to do something new and even crazy!)) If you suggest me to try something new, i will say YES!))