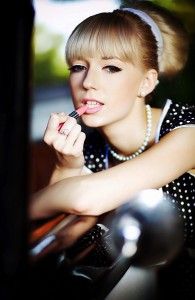 Sometimes, it happens so that even the most loving people quarrel and even fight with each other. This happens not because they don't love each other anymore but because everyone is different, and all points of view differ too. As a result, everyone thinks to be the only right one. But what can you do when you made your lady cry with despair? When you calm down, you will surely feel yourself badly, but ladies are more influenced by stress, and when you already feel yourself fine, she may still be in depression after the quarrel. But what can raise her mood quickly and make her forget about your disagreements?
The first variant is to show her your love. Hug her tight and tell how much you appreciate her. Don't remind about your fight anymore, this may make her even more upset. If you have occasionally said something abusive, apologize for this, but don't enumerate all your words, just say they you were too rude towards her.
After she calmed down a little bit, you may ask her to talk to you. Let her say everything that keeps on bothering her. In this way, she will manage to release her tension and feel much better.
Make her a surprise. Everyone loves pleasant surprises. For example, this may be a small gift. Don't be too banal with a bouquet of flowers – there much more greater and interesting things you can present her. For example, even a bunch of colorful balloons may raise lady's mood. And especially awaited gifts include jewelry. If you don't know what your lady may want – a gift certificate will always help you, as in such way your lady will manage to choose herself what she wants.
Invite her for a romantic date, or just for a walk. Pleasant impressions will replace negative emotions, and she will become happier after your walk. There are surely lots of ways to spend great time together which will help you to cheer up your lady.
Each lady has her own approach. While some of them may start eating lots of chocolates because of depression, others may get lost with their friends. You are the one who knows your lady the best, and you will surely make it right in calming her down and raising her mood after a quarrel.