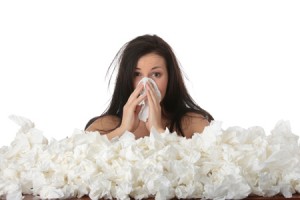 Spending time with active and cheery person  always gives lots of fun and great impression but what should you do when your loved one catches a flue? Now you have an opportunity to show how much you care about her and that she count on you. So be sure, taking care of ill person means so much more then a bouquet of flowers and movie night. And, of course, your significant other will care of you  if you ever get sick.
So what can you do for her to make her feel better?
First of all, make sure she has everything she needs to fight against disease. Cook her enough hot chicken or vegetarian soup, bring her pack of tissues, make tea with honey and buy some oranges. Also you you should take her to the doctor if illness is serious. Do not forget to buy the medicine if it's needed.
Be sure you stay in know how it's going. Call her a couple times a day just to make sure she is OK even if she is sick still.
Make her illness not boring. How usually we hear that being ill is the most boring thing ever! Especially, when you are all alone. Don't you want to make your loved one feel better by watching movies together, playing table-top games or reading in voice to her.
Ask her what she needs as you can not know really everything. Maybe she needs one more pillow to feel comfortable or warm socks. When being ill a person becomes very vulnerable, especially woman. Be sure she feels you are here for her and that feeling will help her to overcome illness much more faster.
Want to be helpful when your woman is sick and can do nothing unless slug in the bad and sniffle? Just make her everyday chores like walking the dog, watering the plants, washing the dishes and making the laundry.