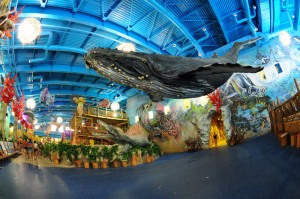 If you are a lover of incredible adventures, and a thirst of emotions and pleasure is bubbling in your blood, then this place will be perfect for you. You probably watched the movie Jurassic Park, and were so impressed by it. What will you feel when you find yourself there? No no, don't worry, the dinosaurs will not chase you, you'll just be amazed the awesome scenery of this place. We are talking about the Jurassic Water Park or just as it is called "Dream Island".
Visit it once and you will remember this day for a long time – you will be enchanted by this magical place. This is the best way to escape from the city bustle, to get positive emotions and drive – going down various water rides! If you like extreme, you will be delighted with the number and variety of water slides.
Undoubtedly riding the slides takes power, but the water park administration has thought of everything to the last detail. You can relax in aqua-bar, sip your favorite cocktail while sitting in Jacuzzi or a massage chair, and get heavenly pleasure of an exotic rest. You won't be hungry here, there are waiting for you in restaurants various goodies for every taste. Also after testing the excellent cuisine you can enjoy the artificial rivers, which are very nice for relaxation.
You will find here the world of baths and saunas! To gain strength and energy, you can enjoying bathing cultures of many nations of the world. Isn't it impressive? To get to nirvana you only need to use the spa – services and enjoy massage with your lovely lady. You can even ask for a massage lessons from the experts, to learn how to deliver an incredible pleasure for your beloved.
You will get the most vivid emotions and everything what you came here for. Make your day unforgettable at Water Park "Dream Island" in Kyiv!