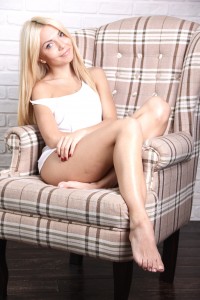 Elena
Ukraine, Krivoy Rog
Age: 24 years old
Star sign: Sagittarius
Photo Album: 11 photo
1. If you were given the day off from all your everyday responsibilities, how would you spend it?
I do like to travel. I would like to visit Paris, Maldives, Machu Picchu, Spain, Costa Rica.
2. Do you have a childhood memory that makes you smile every time you think of it?
Oh, yes. My parents and I were outside the city. We had a little house there. I was walking and suddenly saw a little pond. So I decided to help my mother, take off my clothes and started to make big laundry. I didn't have another clothes, though.
3. Who do you speak to when you're having a hard time in love?
My mother is my best friend.
4. If you could travel the world, which are the five places you'd never miss?
Hmmm… Let me see. I would like to enjoy life as much as I can. I would try some forbidden things)
5. Do you have any phobias?
No, I don't have any at all.
6. What is your favorite TV show?
I like all kinds or reality shows.
7. What is the craziest thing you have ever done?
I will do my craziest things with my man)
8. Something you wish you were better at?…
I wish I were better at making breakfast in bed) So my man will have to spoil me then.
9. Do you believe that there is only one love for everyone?
I believe there are soul-mates in this world. They can love each other and only they can be happy.
10. Do you like experimenting with new things in life?
I do) I always experiment with my hair and clothes, I like to be different all time) Even a little unpredictable and extravagant.