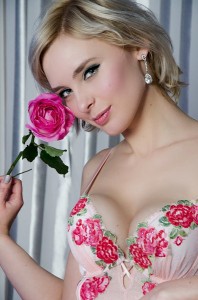 As you are dating someone now it means you need pay attention to your partner. There are lots of occasions when you should give flowers to your loved woman. It can be some special occasion – her birthday or your anniversary. Or you want to apologize for being late or forgetting of some memorable date. Or when she is upset and you want to make her feel better. However, much better is presenting flowers without any reason – just because you love her.
Appraise the situation
You should chose flowers to give according to the situation. If it is your anniversary or romantic dinner some passionate flowers like deep red roses will fit perfectly. If that is a spontaneous desire to surprise her chose a bouquet of field flowers.
Find out what flowers she adores
Yes, you can follow point 1 above and chose flowers at sole discretion. Remember – the most important is to be attentive and to notice your partner's likes and dislikes. If you observe what flowers are her favorite it will be just great. Again, if she hates daisy flowers you should not give them to her.
Make sure flowers are fresh
Make sure flowers you want to give your woman are fresh and arranged nice. If not chose another bouquet or shop.
Handle the bouquet carefully
Wrap the flowers you bought with paper and be careful when handle. Flowers are tender creation so you should be delicate too. Don't put them under the sun as they wither soon.
Add a card
You may also write a small note. Cut a piece of paper and tie it with a bright colorful ribbon.
Think about the way you will give the flowers to your woman
Just a couple of words to cheer her up and probably an appropriate place – after work or in the morning to her day!