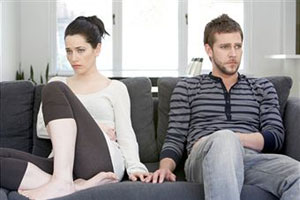 There is no couple where partners are never fighting with each other. It doesn't mean that there is no love between them but there are relationship problems happening from time to time. Of course, if you learn to recognize them in advance, you have an opportunity both to get though easily and make your relationship even stronger.
So let's see what relationship problems can be and how to find the solution.
The major problem is lack of communication. It's not a surprise as our attention is often engrossed by TV, Internet and various electronic devices .
The solution:to schedule an appointment with each other especially if you are dating for a long time or living together. Make a reservation in a restaurant, go for a walk, spend the evening together without children and relatives. Just two of you. And please, leave your phones at home unless you have children and you worry about them.
House chores
When living together there is always an issue of dividing the house chores between partners. As usually both of them are working full day sometimes there is no energy and desire to do any housework. after all.
The solution is clear: make a list of all house chores spreading them on days of week between the partners. It will allow assign the household duties, to spread them eaqul and to not to keep in memory all the stuff .
Trusting each other
Trust is a basis of any relationship and if you have any reasons not trusting your partner you need to clear up immediately. Also you need to follow some key steps to build up trust-based relations:
Don't lie ever neither to your partner nor any other people.

Be punctual in time and accurate in words.

Keep your partner in the loop on your goings.

Call every time you will be late at home.

Do what you say.

Never make promises you can not make real.

Be fair and never bite even when fighting.

Never lose your mind when everything is going wrong.
And the last thing to be said – work on your relationship as its success depends on you.