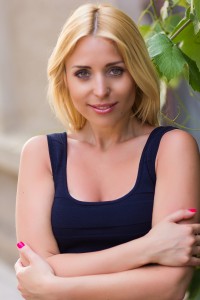 Viktoriya
Ukraine, Nikolaev
Age: 32 years old
Star sign: Scorpio
Photo Album: 7 photo
1. What was your favorite subject at school and why?
At school I loved geography) Why? Maybe because I always dreamed to travel) And I was curious about history, new counties. new cultures…And what was yours?)
2. What can be found in your handbag? Without what thing you will not leave the house?
Oh…my purse)))) Its easier to say what I haven't in it) wet wipes, lipstick, mirror, note book and much more ..
3. What is the house of your dream? Or you prefer to live in apartment?
The house of my dreams, like in the movies… big happy family in it, with a nice lawn where you can arrange family picnics. But as the saying goes – with the beloved there is a paradise in a tent)
4. What kind of rest and vacation you prefer?
I lead an active lifestyle, but sometimes I like a quiet holiday in the countryside. I also love extreme sports …. Do you have a favorite holiday? How would you like to spend a vacation with me?
5. What is the most incredible act you're ready to make for the sake of love?
It is hard to say) It all depends on what my man wants), but probably the most important thing it would be a wedding))). I could go with my favorite on the edge of the world) and what are you ready for?
6. What is the most unusual present you have ever get?
I haven't got a lot of gifts. But perhaps it was the most unusual huge bouquet of flowers. I love romance) And I think the price is not so important, you just need to make a present form your heart…
7. What is your attitude to sport and healthy life style?
I try to lead a healthy lifestyle, healthy food and fitness, I think you can see it by my figure))
8. Do you like perfumes? Do you have favorite?
Oh…perfumes – my weakness) I like to smell good)) I do not have the most favorite flavor, as I like different ones) depends on the events and mood. Sometimes it is the fresh smell, sometimes gentle fruit ….)
9. Do you have driving licence? And what is your dream car?
I always wanted to be able to drive. I hope I will have such a great opportunity one day))
10. Where would you like to spend your honey moon?
I think we will solve this problem together))) I want we decide together how to make our honey moon the most romantic and passionate event in our lives….