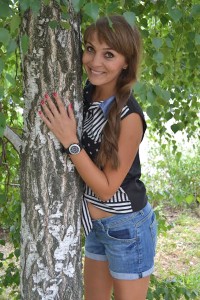 Olga
Ukraine, Kherson
Age: 28 years old
Star sign: Leo
Photo Album: 9 photo
1. What was your favorite subject at school and why?
Mathematics. I like to solve complex problems. This gives me a lot of interest even now) let's solve the complex problem of love and be very happy together!
2. What can be found in your handbag? Without what thing you will not leave the house?
Everything!!!!! It is like black hole) LOL do you know they say woman could live 2 weeks with her bag because she has everything in it: lipstick, glasses, mirror, cosmetics, medicines, keys and so on!!!!! But when I really need something I can not find it in my bag))) I will not leave the house without my lip-gloss.
3. What is the house of your dream? Or you prefer to live in apartment?
I dream about a large two-storied house with pool and garden! And you near me in it)
4. What kind of rest and vacation you prefer?
I like the sea coast and the beach! I like to have rest there and to swim with you in the ocean, sea, river! Anywhere!)
5. What is the most incredible act you're ready to make for the sake of love?
Everything for bright emotions and moments. MMM! I think I will do all to make my second half happy!
6. What is the most unusual present you have ever get?
Very very beautiful dress. It was long and red! I really like long dresses) will you enjoy it on me?
7. What is your attitude to sport and healthy life style?
I love running and athletics! Will you run in the morning with me?
8. Do you like perfumes? Do you have favorite?
Yes of course! Chance CHANEL. I like it so much!
9. Do you have driving licence? And what is your dream car?
No, I don't. But it is my dream to drive a car! All girls dream about little car and I want Jeep))) Do you imagine so tiny me in so big car??? Sexy?? )) I think yes)
10. Where would you like to spend your honey moon?
In the Maldives! But I think with you our honeymoon will be so good even in a little flat!