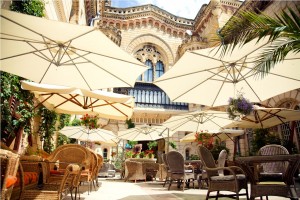 Odessa is a pearl of the sea, which is famous for its hospitable people, the best parties and great restaurants. It is a wonderful city with huge number of great places! In Odessa you will not waste you time ! Here you can find restaurants and cafes for business meeting, for meeting with friends and of course for romantic dating! So read about the best places – restaurants and cafes!
The first one is "Dacha". The restaurant is in the style of a country mansion. Feel yourself like a bourgeois, sitting in a wicker chair in the country in the company of friends or beautiful woman and delicious homemade food. You won't forget birds, fountains, home furnishings and friendly smiles after visiting this place, so be careful! Here you can taste barbecue, dumplings, homemade noodles, stuffed neck.
Then we can advise you to visit cafe "Compot". It is one of the most popular places in Odessa. Sitting on the summer terrace, you can meet people from all over the world. This place is famous for its juice, lemonade, liqueurs and fresh pastries.
Also you may visit "Bernardazzi". It is great club-restaurant with a magnificent patio. It is the ideal setting for a romantic evening with a light meal and perfectly matched wine. If you prefer live music, you can listen it here.
Be sure, if you visit restaurant «Fratelli», you will remember it long time. The chef of the restaurant is Italian Stefano De Mihelis emphasized the classic Italian cuisine. Here is prepared octopus carpaccio and beef, different kinds of pasta and risotto, turbot, bream and grilled langoustines. Also you can taste traditional Italian soups – minestrone with cherry tomatoes and spinach rabbit soup with mushrooms. There are near 4 halls here and even one room is for children. So you can spend romantic time with lady while children will play. If to speak about music, in this restaurant you can listen the piano.
For fans of lounge music, Odessa has great place. This is lounge cafe "Granat". It is 24 hours place and it is very well-known in Odessa. It is very often when you can not take a table without reserve here. The menu is consists of classic dishes: a lot of salads, grilled salmon, French fish soup and popular Japanese dishes. There are a corporate blackcurrant, pomegranate and quince wine in the wine list.
The interior is decorated in Art Deco style. There are one main hall and a summer terrace in the cafe. During the daily time is turned on the green backlight, at night – red, and at 8 p.m. waiters light candles.
It is mentioned that cafe «Di Alpino» is also one of the famous places in Odessa. The menu is based on a mix of French and Italian cuisine. The café has its own bakery and confectionery. There are cream soups, pastas, risottos, salads and meat dishes in the main menu. Dessert menu is updated every week.
There are 2 halls in the cafe and a summer terrace.
Restaurant «Jardin» is located in the City Garden. It is a restaurant is the Italian and French cuisine.
Here you can eat the black, green and red paste, which is made by themselves, without adding eggs. The paste is dring directly in the hall. Ready-made meals are served with the Black Sea mussels, clams, duck and porcini mushrooms. After lunch the sommelier is in a restaurant.
The open kitchen is in the hall. There is a shop inside, where you can buy pasta, olive oil, balsamic vinegar, Italian wines and French mustard. Interior is decorated in a Provencal style.
Steakhouse «Barbacoa» is a a modern steakhouse.Of course the main menu consists of different kinds of meat (dishes from meat). The emphasis was made on burgers.The burgers are from all over the world. Also a lot of salads here.
« Barbacoa» has «wide»cocktail menu, all drinks are prepared with fresh fruits, berries and fruit puree. There are three halls and a summer terrace.
Restaurant «Ministerium» can be named like a heart of modern life of Odessa. In the menu you can find classical dishes of European and Japanese cuisine. There are oysters, frogs' legs, pike eggs and baked nutria.
« Ministerium» has four halls and a summer playground. Soon there will be held a conference and some of the Odessa Fashion Week shows, and events of the Odessa International Film Festival.
Restaurant "Gnezdo" is a restaurant with the Italian, French, Japanese and Odessa cuisine. Try here veal steak, kebabs of pork, salmon, chicken and sturgeon on the grill. There are also dishes of meat and fish that are made in josper. People like this place for its sales. Here you can find sales near 50 % for some dishes every day.
There are two large halls and an outdoor terrace in it.
Restaurant "Aiva" is a place with the Uzbek-Japanese cuisine. There are samosa, kebab and dolma in the menu. A lot of meat soup are here. From Japanese cuisine are rolls, sushi, sashimi. Restaurant delivers food throughout the city. The interior is decorated in the Uzbek style: you can see carpets on the walls, flags and Uzbek plates with a characteristic pattern.
Restaurant "Svecha" is one of the largest restaurants in Odessa,which is located near the sea. This place has been working long time and it is oriented for different tastes in meal. Thats why you can find here dishes from all over the world. It is comfortable to visit this place with children, because there is a large playground for children on the territory of restaurant.
If you are in Odessa, you have to go to restaurant «Maman».It is a real Odessa`s spirit here. The particular attention is paid to plates. The menu is consists of dishes, which are well-known to every person from Odessa since childhood. If you like lemonades, you will not find better place for drinking them , than this on. There are six kinds of fruit and berry lemonade. The wine list has large selection of wines and liqueurs, three of their own production: ginger, berry and hrenovuha.
The restaurant is on the first floor of an apartment house. In the courtyard is a summer terrace.The style of "Maman" is a modern English style.
Of course it is not all places in Odessa. But for now you can image, where you can invite your Ukrainian lady.