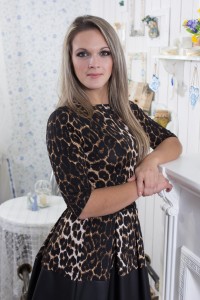 Yana
Ukraine, Kherson
Age: 21 years old
Star sign: Taurus
Photo Album: 10 photo
1. How do you keep fit and stay so beautiful?
Good food and sport! I like to go to gym and also like walks on the fresh air. I like to run in the morning and in the eve. Also I try not to eat so much sweets. But I think love will make woman more beautiful and more healthy that is why I came to the site and I am looking for happiness.
2. Which color reflects your personality and why?
Beige… beige color like soul and calm people who appreciate the quality of life. I try to remain neutrality in any unstable situation.
3. What's your favorite music you're listening to these days?
I love music about love! Because it makes me smile. And I begin to dream about my future family. About love! About life. Even now when I write about this I have million emotions.
4. What's your favorite vacation idea?
I think it is walking hand by hand in the park or near the river. With you! I also think when I meet my man we can rest everywhere! Even at home, even sleeping, even watching TV.
5. What kind of first date would you prefer with the man you like? Describe it.
Meeting in cafe. Soft light, maybe candles. Light music about love… coffee with sweet cake… soft chairs…
6. What is your favorite holiday?
It is my daughter's birthday. It is both holiday for me and for her.
7. What is your motto in life and why?
"If you feel that you fall down, remember, for what you fought before. I remember this and live for my daughter.
8. Would you like to live in the countryside or in a metropolitan area?
It is not so important. Important are people who will live with me – my family. With beloved it is good even in the little house on the end of Earth.
9. What is the craziest thing you have ever done in life?
Oh! this I don't know yet))). I think nothing so extreme. Let's do it together??!
10. Answer the question – The world would be a better place if…?
If people will respect each other more.