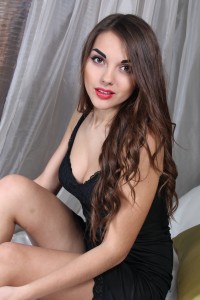 Yuliya
Ukraine, Nikolaev
Age: 19 years old
Star sign: Gemini
Photo Album: 16 photo
View Yuliya`s Full Profile

1. How do you keep fit and stay so beautiful?
I do not have any special secret of staying fit and beautiful, leading an active style of life and healthy eating. They say that my sunny smile is one of my beauties.;) I believe is a person is kind and nice in her heart that would definitely influence her appearance.
2. Which color reflects your personality and why?
I do know that white color reflects my personality very well. White color represents women properties. It reflects female passivity, benefactor, caring nature. White is associated with the mother's milk. Also the white flag is considered a sign of truce. I can say that I am very feminine, peaceful and calm, I never overreact in order to prove my point of view.
3. What's your favorite music you're listening to these days?
I am a big Adele fan, her "Hello" song is my favorite now, it is always in my earphones. Adele's Music makes you miss your ex even if you've never been in a Relationship….!! I have listened to this song everyday for the past one month. Simply amazing!


4. What's your favorite vacation idea?
I am a country girl, I grew up in a small village and that is why I would love to have a vacation on a beautiful ranch far away from the big city with the splendid nature around. I adore lakes and rivers, fishing, swimming and lying on the sun. So being with my close people there would definitely cheer me up greatly on vacation.
5. What kind of first date would you prefer with the man you like? Describe it.
Describe it.. Oh it does not really matter where to be with my man, the most important thing is not being disturbed by others when we have planned romantic date. 😉 We could go somewhere out of the city, rent a room in a hotel and be there 24 hours with no breaks for dining out) We can order food in the room. ;)) he-he I need to hold you while we sleep and when we awake greet each other with "morning kisses – my favorite". And making love in the morning – what can be a better way to start our day.
6. What is your favorite holiday?
Maybe I am still a child inside but my birthday is still my favorite holiday. I am very thankful to my parents for giving me the birth, for doing their best to give me everything I need. Every year I thank them and bake the most delicious chocolate cake ever.;)


7. What is your motto in life and why?
Live for yourself, not for the strangers you think you want to impress. That is my motto, I often meet people in my life who are trying to pretend being someone else, who try to impress others instead of being themselves. I do not get it. Life is a gift and every minute is precious, trying to impress others you may simply waste your time instead of being yourself. Adopting this little phrase has helped me save my energies in many a unproductive arguments.
8. Would you like to live in the countryside or in a metropolitan area?
Now I prefer living in a small city, I feel safer here. But I never use a word never.;)) who knows, and may be I would change my point of view one day, that is hard to predict. But now I feel comfortable being close to the nature and animals, not spending lots of time in public transport and so on
9. What is the craziest thing you have ever done in life?
When I was 13 I was swimming in the lake with my friends. It was in June when adders and snaked are very active in water .We were so noisy and probably we've irritated the snakes very much) some minutes later we have seen many of them around us and all of my friends immediately left the water, but not me..) I am always trying to let my brain to control the situation. 😉 my friends still think that was crazy


10. Answer the question – The world would be a better place if…?
The world would be a better place if people were kind. Looking after people's own interests and profits is making this world cruel. That is the reason why we have so many wars now, millions are suffering and some people are filling their pockets with money. If kindness would one day start to rules their hearts we would live definitely in a better world.