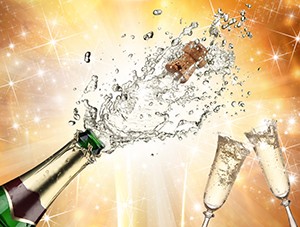 Christmas and New Year are considered to be the happiest and brightest holidays which everyone is looking for! And everyone wants to celebrate it the most interesting way he or she can. However, even such kind holiday can hide some dangerous moments which you should avoid if you don't want your holiday to be spoiled.

First of all, don't forget that winter is almost always cold. This means that kind and fluffy snow can hide ice on which you can occasionally slip and fall and as a result receive different injuries. So, always be careful when it is cold on winter holidays!
Next, take care about your relations! According to the statistics, most of the couples split apart during New Year holidays. No one knows why this happens so. Maybe this is because of bustling and tension, maybe because everyone becomes irritated what leads to quarrels. So, be calm and remember that no irritation values your relations.


Big and small companies and corporations make special parties for their workers. People gather together somewhere – in restaurants, caffees, clubs – and spend time together. This is surely done to show appreciation to the workers and to let them have a nice rest and get to know each other better. Yes, be careful with unknown food on such parties and especially alcohol. Food may cause poisoning stopping your holiday mood. And as for alcohol, you may start to act weird if you drink too much, and this will damage your reputation in the company. And even if not, in the morning you will have an awful hangover. No one needs this.


Fireworks can be really dangerous. People love launching fireworks during the New Year and this leads to various injuries. So, it is better to let others do this while you watch from the side. Yet, be careful too, as fireworks may fly into unexpected directions and even break windows.
Check your electricity. Different garlands are too long and you may miss some spot which lately can cause fire. Examine everything before hanging them on your house and fur tree – and your holidays will be even brighter!
And the last very important danger. You can forget to make a wish during the chiming of clock! When the new Year approacher and the first chime rings, you need to start writing a wish on a piece of paper, burn it, through ashes to the glass of champaign and drink it! And, of course, to believe that this will help you to achieve your wish. Don't miss this opportunity!