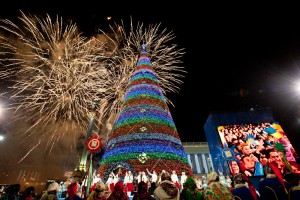 The New Year and Christmas are the magic time and are truly international holidays. In this article you will read about how these holidays are celebrated in Ukraine.

The main traditions of the New Year in Ukraine.
The tradition of the holiday is a New Year tree, because trees represent the connection between human and nature and the higher powers, they are a symbol of renewal. Traditionally, the Christmas tree is decorated with bright toys, lights, balls and sweets two weeks before the New Year and people don't take it out until Epiphany, because if it is thrown away early, it will mean bad luck for the house and family.
Another wonderful holiday tradition is lush and rich table. It is believed that if you have a variety of tasty dishes, you will not be hungry in the coming year. Of course, the New Year's table is unthinkable without champagne. The tradition of drinking champagne at New Year first appeared in the 16th century, in France, the home of this wonderful drink.


We must not forget about the gifts. The tradition of giving presents to family and friends appeared in Germany in the 15th century, the beginning of celebrating the New Year in the way we know it today. Handmade gifts are especially wonderful, as they are believed to bring luck to the recipient.
New Year is a holiday of love and forgiving. Traditionally, on New Year's Eve, people forgive each other for everything and kiss each other and lovers embrace looking forward to greater partnerships in the coming year.
Fireworks and sparklers are also a wonderful tradition of the New Year, because this special night should be bright and unforgettable.
Where can people celebrate the New Year?
Traditionally, New Year is a family holiday. Therefore, it should be spent at home with family and friends. However, it does not mean that it is necessary to spend the whole holiday at home. There is a nice tradition to go to the countryside and enjoy a glass of champagne in the snowy forest.
Fans of the magnificent celebrations can go to a New Year's ball.


Undoubtedly, the New Year is the most cheerful holiday. Therefore, it is customary to celebrate it very loudly and with a great sense of fun. Even if something goes wrong in your life, the New Year's Eve should be happy, walking, dancing, dressing up in costumes, with great friends and strangers. This is the main New Year tradition. In fact, according to how you spend the New Year, so you will have the next year like this one day.
Christmas in Ukraine is also an important holiday, especially in the Western Ukraine. Ukraine is a Christian country and, it is known the whole orthodox world has a wonderful and quiet family holiday Christmas on the 7th of January, which is one of the most beautiful and solemn of Christian holidays and, of course it has its own traditions of celebration.
Throughout the Christian world, Christmas is celebrated with a special reverence. In Ukraine, on Christmas Eve children go out into the streets singing Christmas carols. They knock at doors of houses and sing carols, and people give them sweets. Christmas Eve is called the Svyatiy Vechir.
One of the most important dishes is Sochivo (Kutya), which is made from poppy and almond milk, mixed with honey and red wheat or barley, rye, buckwheat, peas, lentils.


Christmas is considered to be a family holiday. On this day, in houses are peace, love and harmony. According to traditions, the Holy Supper should be with 12 dishes.
On Christmas night the Ukrainian Orthodox Church has a church service. This service lasts all night, some people go for the whole night, usually the older generation, most people now go for a period of time in the night.
It is also believed that at Christmas making a wish to the stars will make all your plans come true.
So come to Ukraine for celebration! We are waiting for you!