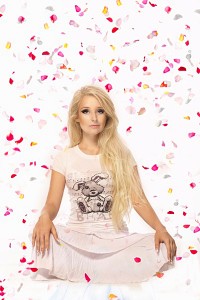 The most romantic time of the year is coming soon! St. Valentine's Day! Time when you can confess your deepest feelings, show your affection and open your heart to your beloved! Fragrance of love go with this day!
Slavic people had never celebrated St. Valentine's Day but now it's essential holiday in Ukraine and Russia! Do you know why we celebrate this Day? Now it is mainly another reason for us to let our close people know how much we care about them, give and receive cards, enjoy spirit of love. What could be a better time to let your dear ones know that you love them?!
It's so easy to open your heart this day!
you can send nice letter or card with love words ( you will show your admiration to a lady and let her know about your feelings);
you can make her smile with a beautiful flower arrangement ( you will show your deepest emotions and let her feel your attention);
you can make her day more sweet with box of chocolates or other candies;
you can say about your serious intentions with heart shaped jewelry ( and let her know for sure that you are in love);
you can choose perfume as a present and show your lady how great you know her and her tastes.
There are so many ways to express your love but the main is not to forget that St. Valentine's Day is just once a year and love is immortal. So for making your relations stronger and keep the fire of your hearts burn forever- live every day as St. Valentine's Day! Happy Valentine's Day!