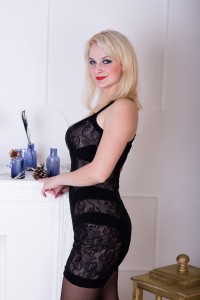 Yuliya
Ukraine, Kremenchug
Age: 23 years old
Star sign: Cancer
Photo Album: 15 photo
View Yuliya`s Full Profile

1. How do you keep fit and stay so beautiful?
I don't do something special. I walk a lot, love my life, and try to smile always, and be happy. Also I try to eat healthy food, but without chocolate I cannot imagine my life)
2. Which color reflects your personality and why?
I like very much yellow.. It is so shinning, bright and warm) I try to be very shinning too, I wish everyone can feel my warmth
3. What's your favorite music you're listening to these days?
I like all music. But last days I listen such music which makes me to move.. I like to listen it and move on my chair, with its help the day goes on faster, and more pleasant..


4. What's your favorite vacation idea?
I would like to go the sea, to sunbathe there.. But I want to go there with my friend or with my beloved man. I never like to be alone.. To have a lot of fun together, and enjoy..
5. What kind of first date would you prefer with the man you like? Describe it.
I like surprises very much)) So, I would like any date, which can prepare for me my beloved man.. I would like something unusual. We can ride on the bikes, then to have some picnic, where we would talk a lot, and enjoy fresh air)
6. What is your favorite holiday?
My favorite holiday is New Year. I like to see happiness in the eyes of my close people, when they get presents. I like to prepare gifts and give them to my friends or relatives, and of course I like very much to get them too))


7. What is your motto in life and why?
My motto is "be always yourself". I think that everyone always has to be himself. You never have to change, if somebody wants this. You have be loved for that how you are in this life. Every person has to be special and unique.
8. Would you like to live in the countryside or in a metropolitan area?
I would like to live in the countryside. I like fresh air very much. I like to spend much time in the air.. Also I like to take care about flowers at the flowerbed.
9. What is the craziest thing you have ever done in life?
When I wanted to change very much.. So I began to experiment with my hair style. And I colored my hair in pink color))) It was very funny for me) Thanks to the God, that in some days all became better, and the pink color leaved my hair)))


10. Answer the question – The world would be a better place if…?
I think that the world would become better if there is more very good men, which loved their women take care about them. When the love is every where, and everyone is happy and smiling))