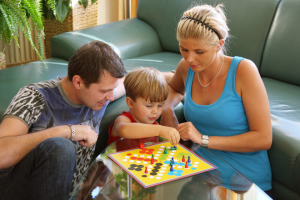 When people marry, they believe that in front of them the sea of love and romance is waiting and, of course, they will not repeat the mistakes of those couples who lose their intimacy and understanding in already a few years of life. But often with time love becomes a habit, gradually losing interest in each other, it becomes less so, for which I want to talk to and due to this routine even the most durable union can give a crack.

What can we do not to lose interest in each other? There are many ways and one and them – a common hobby. Most psychologists agree that a common hobby – a real salvation for any marriage. But remember, a hobby does not prevent crises and problems – it prevents them. If your marriage is already bursting at the seams, then invite the other half to the sewing classes, at least, useless. But if you've just created a family or plan, it is time to look for a common activity, which will help you not to get bored together and stay interested in each other.
There is a lot of useful party general family hobbies. Firstly, it acts as a link in the pair. Moreover, this link is created not by compulsion or necessity, but because the couple is interesting, it attracts them. Common hobbies provides a variety of topics for discussion and improves mutual understanding in the family.


Hobbies allows to increase the residence time of the couple together, and not because they have nowhere to go apart, for because they are fun. Family life in the presence of a common hobby is becoming more interesting and rich. Disappears indifference or alienation, gets bored, family life takes on new colors.
We should also recall the influence of a common hobby for children. First, peace and harmony between the parents and a beneficial effect on children. In addition, growing up heirs can join the parent hobby, and it will help the family to approach even more. Kids will not feel deprived of parental attention, and all will be doing things you love. In addition, children can feel their importance and significance for the common cause, that is sure to enhance the self-esteem and give impetus to further development.
Well, if the couple has developed, so having a common hobby or even if a hobby has become a major impetus towards the creation of a family. But what to do if a family already, and there is no common interests? Sooner or later, it can lead to the fact that every member of the family will find something to do and it will lead to estrangement and alienation. In such a situation it is necessary to try to find a hobby that would suit all the family members and all carried away. How to do it?
Firstly, it is necessary to analyze their interests and the interests of all members of the family, you might already have the foundation for the future of the hobby. Most people close do not even know how much they have in common. If you find a common interest, begin to move in this direction, and perhaps you will find yourself a hobby. If such interest is not found, you need to analyze, what would you like to do, and look for common ground.


Here is an example: if a woman wants to do the cooking, and the man loves the competition and confrontation, you can arrange for cooking contests, for example, who better to cook the dish or come up with more interesting recipe, and invite friends as judges. A great option in common hobbies – pets. The education of a pet will be able to realize themselves and gentle nature, who want to take care of someone and someone to love, and to educate and train lovers and those who just like little animals. Especially be happy hobbies such children.
A great option for the joint interests of people with different temperaments, which is difficult to find common ground – picture. Photo – useful and creative activity that allows you to expand the horizons and is suitable for people with different physical characteristics, temperaments and interests. Each of the spouses can take pictures that look like him and his methods, and then share their experiences or to arrange a mini-exhibition.
A great hobby, which helps to combine business with pleasure – cooking. As we have said, it is a hobby suitable for almost everyone. In addition, this hobby may eventually grow even in the family business. For example, you can create a family cooking blog, which will be published not only recipes, but the secrets of achieving harmony with married life.