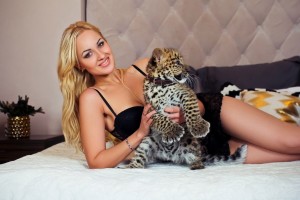 Each woman can be associated with some animal. One can be a tigress, another can be a kitten. They are loyal like dogs and colorful like little parrots.

It is believed that animals can feel good people and will agree to approach a person only if they feel something good. The following ladies are surely the best, as they can win the trust even of dangerous creatures, and can show tenderness and affection to the smallest of them!
There is nothing better then hugging a fluffy puppy. Or, no, there is! Hugging a sweet Slavic lady! Have you already found your destiny? She is waiting for you on our site! Come and hug her, save her from loneliness, and win her tender sweet loving heart!