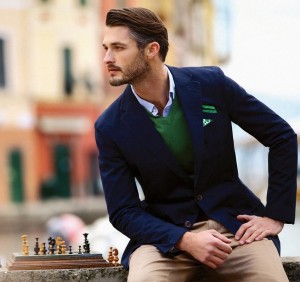 Millions of people in the world are talking about the style and the beauty, fashion and glamor, but only a few know the real secrets of style.

So how can you become stylish??? The secret is simple, like everything else in this world. You just need to understand some easy rules and the changes are guaranteed.
1. The main rule of the stylish man to be spick-and-span. It means that your clothes must be perfect, clean and neat. It doesn`t matter how much is your shoes or shirt, if it is dirty and crumpled. Let your shoes will be cheaper, but they should be always clean, because shoes are the man's face, and therefore a very important part of your stylish image.


2. The most unique secret of style is your own individuality. It does not matter which shirt is the most fashionable at the moment, because you are stylish. You can create your image by yourself. You can be dressed simply and at the same time chicly dressed. Discover your uniqueness! If you prefer sporty style, wear it, but you can also mix it with more official and classic style. The most important thing is that you have your own view and can manifest it. Find your own style and never change it!


3. The smell of man is one of the very significant details in his image. We are talking about perfume. What can show your personality better than your aroma? Perfume is your choice and it perfectly shows your individuality. The only one thing you need to remember is the fact that you should smell amazingly nice. How can you choose your smell? First of all, ask the consultant to pick up as much as possible the perfect smells for you. Do not save money on perfume! it is better to spend an extra money on good spirits and charm all women, than to sit alone.


4. Remember about combination of colors. When you buy something , it is better to think how can you combine this thing with others. Do not forget, the man should not look like a clown (all red or orange), he is obliged to look as an elegant handsome man. The classic colors such as black, gray, dark blue and white will suit perfectly. The great combination of things for the perfect style is a combination of belt color with shoes or color of bag with shoes.
5.It is very important for completing man`s image to have really high-quality accessories. Pay particular attention to this part of your look. It is not need to buy a lot of accessories, it is better to have one good quality thing, rather than a lot of ill- conditioned.
Now you know some secrets of how to be stylish, use them and your life will change for better!