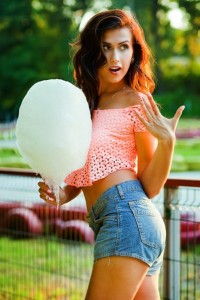 Taurus is the sign that is connected with Venus and the Moon, so is it very romantic and tender. Usually, ladies of this star sign have a really good appearance and curvy body. You can enjoy them every minute and can't even take away your eyes from them.

If you are looking for a lady who knows how to listen to you and how to lead good and clever conversations, then you need a Taurus lady. She is calm and will never allow herself rude critics or aggressive talks. She can also accept criticism in her address, but only if you have arguments.
The main goal of life of these ladies are family, children and a husband. If you want to make your Taurus-lady happy, just give her family and comfort – and she will decorate your life with flowers in return.
As for love, Taurus lady is very devoted. If you managed to deserve her love, you can be sure that she will never ever leave you, and your relations will last forever.


Taurus is the woman who wants to give everything to the arrangement of her home. She tends to turn it into a cozy nest where one wants to come back in the evening, and by all means attracts a man to this nest to fulfill her goal in life – finding the best husband.


Lady Taurus is the best mother. She usually devotes all her free time to her children trying to build firm relations. She is a wonderful support for her children of any age. She uses her own example to show and teach them how to love and to create strong and stable family.


As for job, Taurus ladies don't tend to build career. Of course, they do know how to earn money and can support themselves, but they actually prefer to give their life on building a family rather than building a carreer.