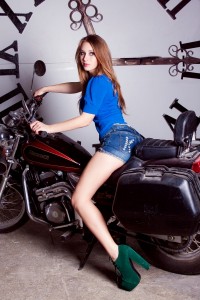 Love has no limits and no boundaries! Is it not? And the same goes about love to vehicles! Ukrainian women love speed and love adrenaline that they feel when the wind blows their hair back and when they are trilled to find out what waits for them ahead. And do you love speed the way they do?

Nowadays, it is very popular among Ukrainian brides to visit courses of driving. They attend the lessons and study how to drive to become responsible and good drivers. But they can't hide their passion to all kinds of vehicles! Just see yourself on the photos!

As you can see, Ukrainian single ladies are willing to drive different kinds of cars and motorcycles. And do you know that sometimes women are compared with cars? Each of them need to get a certain approach and should be driven carefully. One will take you slowly to the long-lasting sweet relations while another will blow your mind with speed and passion of true love! Just choose carefully to your character!