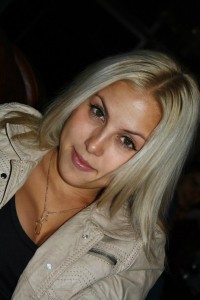 My honey I am an ordinary girl who looks for the love and the beloved. You can not stop loving or wishing to love because when this right is the best thing in the world. And I want to love and be a darling. I can smile, even when it is good weather in the street. I am witty, careful, passionate, creative, very gentle. I am Twins on a horoscope, is possible that is why I am kind,unbiased, emotional, gentle, I love also cheerful. I am a kind, good, honest and warm girl. I like books, movies, music, theater, traveling, good food, nature, the sea, horses and more. I want to tell all this to you.

I am a nice, honest and clever girl. I am very sensual, talented and original. I have a developed taste and style. My imagination helps me to feel the world. The desire to feel the world, wish to create and wish to love all parts of my life. The art school which I graduated from also my mother who imparted to me creativity since the childhood helped to receive these qualities to me. Also, I love flowers and would like to have a greenhouse once. My favorite – lilies, gentle, fragile and sensual as I. And smart roses, they are delightful.
I am a mad romantic, I love very much to do romantic acts for darling. Of course, I very much would like to receive it in replacements too. I want my relationship was long and strong, I will do everything for my man. My dream is to have the loving family. And I am ready to travel through any sea to find true love. I will belong to one man whom I love and I care. It is very important for me. How to be said that the ideal woman has to be "as the chef in the kitchen, the lady in society and lover in a bed". I agree. And I will be a charming and passionate mistress, the best keeper of a home, amusing and serious as the friend.


As for my work, I love my profession, I have the higher legal education, but despite career, the family means much to me and is in the first place. I would like to be the weak lady with the strong person. I would like to meet the serious, honest person to make a family with.
My dear, I hope you recognized me a little and if you want to learn me more, I will wait for you!

Kseniya ID: 173970