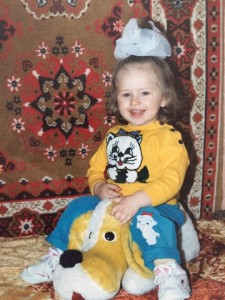 You know, in my childhood I was a very active child! And incredibly like all sorts of adventures! They found me themselves in a strange way, can you imagine?
Now I would like to tell you one of the funny stories that happened to my sister and me, thanks to whom do you think? Of course, I am.

I was only 8 years old, and my sister's 10, she's older than me. It was summer and we spent our summer vacation at our grandmother in a village not far from the city where we live. There was a river, my sister and I really wanted to go to the beach and swim, but some of us were not allowed, and our aunt did not want to go with us. Then, in the signs of protest, I suggested to her sister run away from home! And we did it! You just imagine! We went to collect daisies and quietly began to go farther and farther from home … And here we are quite far from having gone began to be glad that we were able to outwit and escape all. We thought that we could walk to the town where lived our second grandmother live with her for the rest of life LOL.


But, unfortunately, or fortunately, we have noticed and started looking. We came to our second grandmother, but she wasn't home and we visited her neighbor, and while we are unsuspectingly eating strawberries , which he has treated us, our parents have come to take us. Of course, we were punished, our parents that day really scared for us!


And I fear that I will be punished saying that all of this came up, my older sister and her punished more than I have hehe heh.
It's been a very long time since that day, and now we and our loved ones remember the story with a smile and tell it to our friends as a great joke. Yes, as a child I loved the adventure .. This I have not changed today.
Anastasiya (ID: 175877)