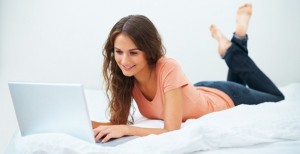 Sometimes it is very difficult ot start a conversation with a woman you like. Someone Someone fears to be blowed off, someone thinks that the lady is "too high level" for him. However a lot of ladies are waiting for your attention and your first step. It is absolutely normal when man begins dialogue that's why it is so important to know how to start the conversation with lady.

1. It is very important to impress a lady favourably because the first opinion is the most important. Of course it sounds very banal, but you need to start a conversation with a common courtesy: greeting and presentation. Every normal and educational lady would never say you something rude for your phrase "Hello! My name is …. And what is your name ?". Be sure she will smile after getting your message.


2. Now you need to start a conversation. To do this, don't ask general questions that may be answered "Yes" or "No". It will be much better to ask "How do fry potato ?"( almost every lady can cook and will be glad to tell you how to prepare it). Don't start your communication discussing the politics or the economic crisis. It is better to ask how she prefers to spend leisure time. This information can be useful for you in the future.
3. Everybody knows how great it is to receive compliments. For sure your lady will be glad to hear nice words from you. All women do love when men pay attention to their face, smile and clothes, hairstyle and make-up. Don't need to tell the absolute truth, and the compliments should not touch the sexual parts of the body. Specify just her advantages.


4. Sense of humor is one of the strongest man's weapon. Humor brings people closer to each other, Ladies appreciate this trait and if she does not get bored with you, she will like you. But if you do not know how to make a good joke, read some funny stories in the Internet and try to retell them. Don't too be shy, and do not remember the old jokes – it can produce the opposite impression.
5. All ladies love presents. If you saw the perfect woman for yourself but you don't know how to start to speak, just let your gift makes it for yourself. Buy something pleasant for her and it doesn't matter how big it will be. If you give a present, she will write you by herself and you don't need to think what to say.


6. Women are romantic and love to talk about relationships. Speaking on this subject, you can learn many useful things about her attitude to men and don't make the same mistakes as her ex boyfriend.
7. Girls love honesty and we can say more they feel when you lie. Better a bitter truth than a sweet lie. Try to find an interesting topic and look at her reaction. She needs to feel your understanding and begins to trust you.
Follow these simple steps and get new acquaintances!