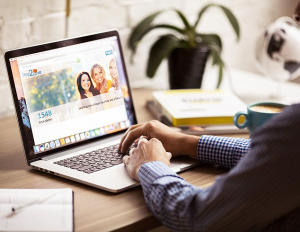 This is a hard time for the planet we live on, but we need to stay positive and make our time at home the best one we can. Social distancing is happening in a lot of countries right now because we want to stay safe and make sure everyone surrounding us is safe as well, but just because you have to stay at home does not mean you should spend all this time alone.

This is the era of the internet and one of the best things that came out from the internet is the world of online dating. Step2Love as one of the biggest international dating sites creates happy relationships all over the planet for more than 10 years and during these tough times, our dating service is here for you like never before.
A lot of our clients are staying at home right now and try to find support from their other half on our website, and some are still daily working, but in the evening still going online to chat with someone special to their heart. We are apart right now because we can not travel the world, but at the same time, it should unite us like never before.
A few tips to stay safe for you and your other half:
— order food online;
— if you need to go out, wear a mask;
— wash your hands nicely;
— stay hydrated;
— daily check on your and your loved one's health condition;
— talk to the people you love a lot, we all need mental support like never before.
We hope that our dating website is going to be your safe place, where you can still talk to people you need, have daily chats with them, ask them out on online dates, do not forget to ask about each other's health daily. Make sure that you and the people you care about are safe.
Step2Love is always here for you, we are working so you can enjoy your time at home, check out offers that will make your time online with us much easier.