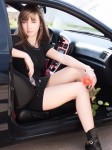 Getting driver's license in United States is very easy. Even if you already have any drivering experience and license of your country you need to get an American driver's license according to requirements of state where you live.
My own experience was a little curious but any way I will never forget it.
Before I start let me say that I took my drive courses in Ukraine but my own experience was as a zero. » Read more..