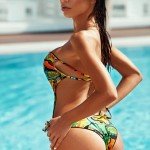 Did you know that Presently about 40% of the world's population lives within 100 kilometers of the coast? People who live by the seas, oceans, coasts are those have something in common. We call it "free spirit" and it's easy to feel it even while the first meet with a person like that.
Therefore, we would like to share with you more of unique facts about very special Odessa Women who are brough up by the sea and certainly have very special features. This only can explain why men from all around the world are so much fascinated by their charm and beauty. Have you ever met Odessa woman already? If no, that's your time to get to know her. Because the relationship with Odessa girl is a must-have experience for every mature man.
So, who is she: the Odessa lady? Why there are so many singles in this port-city? What historical facts impacted into the "bridal situation" of this sea-coast city?
» Read more..