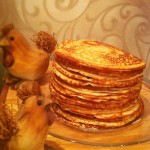 Do you like pancakes? And how about eating pancakes for a whole week?
With Maslenitsa (Russian Shrovetide) you may have not only tasty pancakes, but seven days fun and a chance to meet your Russian bride.
Maslenitsa comes from the ancient pagan holiday of seeing off winter and meeting spring which has remained in Slavic world even after the adoption of Christianity in the 10th century. In According to the Orthodox Church, the period of carnival week is called The Cheese Week and is dedicated to the reconciliation with others, forgiveness and preparing for Lent. » Read more..