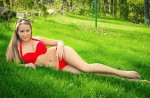 Every man like long female legs!
Have you ever thought about the reason why? Why do they drive crazy so many men?
Especially in spring when everybody start to wear short dresses and skirts you can see all the beauty of women's legs!
Ladies who are blessed with long legs are always catch the admiring men's gazes.
We are inviting you to delight in viewing long lean legs of Slavic ladies! » Read more..