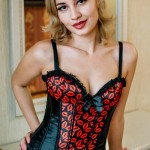 If you are not in relationships for quite long, at some point you start question yourself: "What's wrong with me?"
Being single nowadays somehow become a synonym of "looser" but this is only stereotypes in your head!!! Many singles around the world are staying right now, at this moment in the same situation as you are! And many of them admit that there are wrong ways to be single and right ways to be single! Let's figure out what means "right", and more importantly – let's see how to do not lose a hope while staying without That Special One.
1. Use your single time to learn yourself.
Maybe you remember the movie "Eat. Pray. Love" with Julia Roberts? She was the type of girl who jumped from one relation into the next one. Without any proper break between them. And she says something like "I always dating someone. I never had a single day for myself". And if to dig deeper – these are very wise words! We all need these days when we are SINGLE! We need them to understand what we really want, who we are and where we are now.
One day soon you meet your SOULMATE and you need to get ready, to train yourself and to rest well before to be in your best condition! If you are single now – GREAT! Use this time to learn more about You-person.