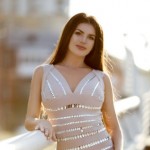 Name: Taisiya
From: Kharkov, Ukraine
Age: 31 years old
Star sign: Libra
View Full Profile
1. Do you have a dream? If you do, tell us more about it!
I dream of simple pleasures with my man: to look in his eyes and see his love and warmth, to feel his strong embraces when » Read more..