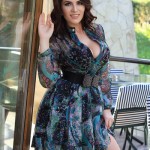 Probably, Fall is the best season to speak about Firsts! Kids start going to school and we all become very sentimental reminding ourselves stories about our first tries to do something GREAT.
Long time ago one small idea of connecting single people from all around the world took the big name: Step2love.com.
Nowadays we are not just platform for dating with a huge experience, tones of successful love-stories and thousands of couple goals photos which we receive from our happy clients. We are cozy and safe place where you can find friend, lover, partner, travel-buddy, puzzle piece, soulmate, wife, husband, your boo. Step2love.com is a unique service. And we are proud to give an excellent experience of online dating to those who "been there" and to those who are very new on this path. Every day we vote for a brave to be able to do that FIRST step when it speaks about love, distance relations and falling into all this magic!!!
» Read more..