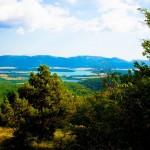 People, who've never been in Ukraine, may know only couple of Ukrainian cities: Odessa, Kiev, Chernobyl. But Ukraine has a lot to propose for a demanding traveler: archaeological, rural, eco and ethno tourism, wine tours, yachting, cruising and historical tours.
We would like to introduce you Crimea – the amazing part of Ukraine, where the history meets modernity and every traveler finds his own special place.
I would compare Crimea with a treasure house because you can find here almost everything you need , including beautiful Ukrainian women who look like fairies in the light clothes in summer time. » Read more..