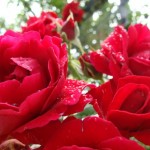 How often women hear compliments that they are unique, gorgeous, intelligent, wise and fabulous? Not as often as it should be. That is why women have created the special holiday–International Women's Day, which makes every woman feel young, beautiful, gorgeous and loved!
International Women's Day is celebrated on the 8th of March and means a lot for Slavic women. It's a public holiday in the post-Soviet countries and symbolizes the beginning of spring. » Read more..
Comments Off on Don't forget to congratulate your Russian bride with International Women's Day on March, 8th!