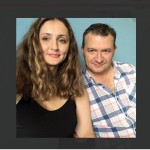 When we receive such stories from our clients, our team has a tear of joy!
Anna got a message that a man is waiting for her to come on her birthday. What a great gift of destiny! She didnt hesitate a minute and bough a ticket to see him. And since that day she never regret of her decision.
It was spring when Anna & Mike met each other in Kiev. By showing him around the streets and landmarks of our capital city, Anna proved to be an enchanting, enlightening and irresistible tour guide for Mike. And Mike proved to be an inspiring and charming companion for Anna….